Using more energy-efficient tires for your vehicle will save fuel and reduce costs. When it comes to Electric Vehicles this factor is even more important as these are heavier and the range matters over most other parameters.
With the easy-to-read energy efficiency label, finding the right tire is simple. Ensure fuel-saving does not mean higher safety or lower noise, the label highlights three important parameters: fuel efficiency, wet grip, and noise too.
Here is a guide to making an informed and energy-efficient purchase.
Rolling resistance and fuel efficiency
The most energy-efficient tires have low rolling resistance. This means less energy – and less fuel – is needed to move the vehicle. As tires account for 20 to 30% of a vehicle's fuel consumption, choosing energy-efficient tires results in fuel cost savings.
Reading the Tyre Lable
Tires will come with a label divided into three sections with information on the following areas.
Fuel Efficiency
Depending on the tire's rolling resistance, its Fuel Efficiency Class will range from A to G. A is the most efficient tire and will save you fuel, G is the least efficient tire and will use up the most fuel.
Wet Grip
The Wet Grip rating tells you how well the tires perform in wet conditions on a scale from A (safest) to G (worst performing tire).
Noise
A tire's noise level is measured in decibels (dB) using a three-wave scale.
Other info on Tyres
A brand space provides the manufacturer's details, including the trade name/mark, tire line, tire dimensions, load index, speed rating, etc.
How much difference does it make?
Choosing energy-efficient tires will lower your fuel costs.
For example, switching from Class G tires to Class A tires can reduce fuel consumption by up to 9%. (Source: https://ec.europa.eu/energy/)
If your vehicle has a fuel consumption of 8 l/100km and you cover 65,000 km on new tires, this means a fuel saving of up to 440 liters over the lifetime of the tires.
As for EVs, the benefit comes in two ways, fuel cost reduction, and range extension.
Here are the most efficient. Please note the list is not in the order of priority. Availability and performance may vary upon the destination.
Michelin Energy Saver A/S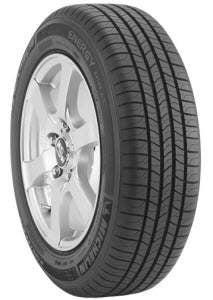 The Michelin Energy Saver A/S has been designed with a special silica-based tread compound that provides increased traction and handling on all surfaces. The tire features an asymmetrical tread pattern, which enables better road grip and increased braking ability.
Continental PureContact with EcoPlus Technology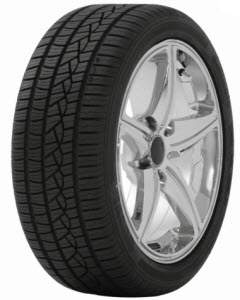 Continental enters our list with the PureContact, a tire that remains true to the prowess of the manufacturer, boasting a beautiful tread pattern perfect for your luxury sedan or tuner car. The twin steel belt design makes this a tough and durable tire that offers great value for money.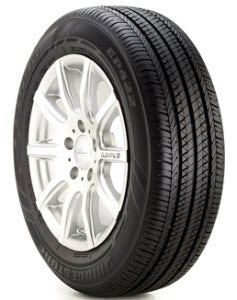 Bridgestone Ecopia EP422
The Bridgestone Ecopia EP422 has been molded with a center block, accompanying a ribbed design that provides improved handling and traction on dry roads. The grooves on the tire push water away from the tire to reduce the threat of hydroplaning and increase performance on wet roads.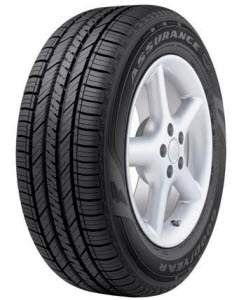 Goodyear Assurance Fuel Max
The Goodyear Assurance Fuel Max is molded with dense shoulder blocks and circumferential grooving that provides increased stability and increases the steering responsiveness on all roads.
Bridgestone Ecopia EP100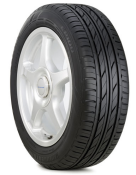 The Ecopia EP100 makes the list due in part to its NanoPro Tech compound and lower rolling resistance that substantially adds to improved fuel efficiency. Bridgestone claims that the Ecopia Ep100 rolls 42% more than the average tire. Furthermore, the reduced rolling resistance achieved with this tire will reduce fuel expenditure considerably. Adding to the savings aspect this tire is inexpensive compared to the rest of the above yet performs quite well.
Pirelli Scorpion Verde
From one of the best-known names in tires comes the Scorpion Verde line, designed to help drivers reduce their vehicle's impact on the environment with no hit to performance or functionality. Using Pirelli's Green Performance practices, this line of tires brings numerous fuel-saving and life-extending benefits to shoppers with design, engineering, and technology deployed to help reduce fuel use and support a longer tire life. Scorpion Verde tires are manufactured using best practices for reduced environmental impact and a high degree of recyclability.
Dunlop Enasave
Dunlop's Enasave eco-friendly tire line was originally designed for factory installation on electric cars and has now hit the market designed to combine high-performance environmental consciousness with a quiet ride and optimized year-round traction, even in light snow. The low-resistance tread compound is molded into a symmetrical pattern that enables a uniform footprint pressure on the road, promoting traction and reducing energy loss. Special provisions in the tread pattern, and the construction of the tread and shoulder blocks, simultaneously enhance wet-handling capabilities and reduce noise levels, too.
Hankook Kinergy Eco
Hankook's strong reputation for quality and performance combines with the brand's take on an effective fuel-saving tire in the Kinergy Eco tire line. Ideal for use on sports and performance models, including sports sedans, coupes, and convertibles, these high-performance summer tires are intended solely for use in performance applications, and not intended for use in near-freezing temperatures, or in snow.
Local context
Having a better balance between the cost and the needs of the user is very much important depending on the location used as well.
Tires are one of the highest cost factors of motoring, and CPK as well. Reach us on 0777 007 139 or write to us at evsrilanka@gmail.com to know more and decide the best for your needs.